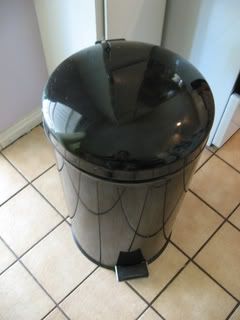 We have one of those trash cans with the flip lid that you activate with a foot pedal. Ours failed and I think this is a fairly common problem with these cheap step cans.
The design is pretty poor, like so many things these days, meant to cut costs to the bare minimum (gee, thanks Carnegie), longevity be damned. (Or in some cases I should say, "obsolescence be planned")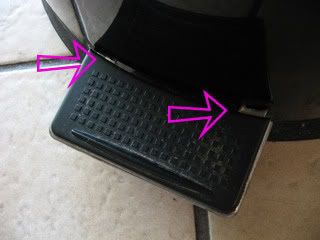 First, the lid is heavy and there isn't a lot of mechanical leverage to lift it. A rod is actuated by the foot pedal and always required a lot of force to open the lid. It always annoyed me. The foot pedal is attached to the can body with metal tabs. Over time with all the forces involved, these tabs bend loose and the foot pedal comes loose.
So do we trash the trash can? Well, obviously not, judging by the kind of blog this is. So how did I fix this one? I gained a few months by fixing the bent metal tabs on the foot pedal. After a second failure, I had to come up with something more permanent.
With the main issue being the forces required to open the lid, I decided to try and use a spring to aid in the lifting of the lid. I got a pack of springs from HarborFreight a few years ago and they are always coming in handy.
I did a little guesstimating and playing around with the mechanism and decided on a couple of mounting points on the of the lid hinge. I didn't get it right the first time, but eventually I got the spring to where the lid will lift -- and also stay up -- with a fairly light pedal press. Then I fixed the pedal tabs again, hopefully for the last time (if not, I'll try something sturdier).